Gas Central Heating Boilers
Which boiler is right for you??
Modern Gas Central Heating Boilers
Modern living, government pressure, and consumer demand has meant the way we heat our homes has changed tremendously in the last 20 or 30 years. No longer does the first riser of the house have to go downstairs, and get the fire going to warm up the room for the children, and to get some hot water to wash and bathe in. Gone are the days of having to clean the fireplace and remove the ash and remains of the whatever has been burnt on it the night before.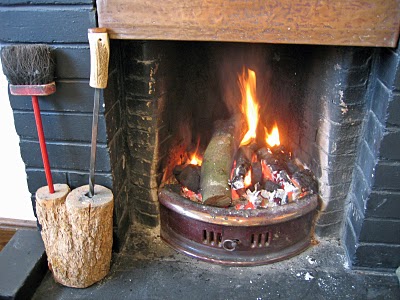 An open coal fire as the main heat source
We are now in the twenty first century, and we demand comfort, efficiency, convenience, and above all, reliability. All of this has to fit in with our hectic lifestyles. Boiler manufacturers have designed modern boilers and controls to fulfill all the requirements of the modern family, whilst also trying to push efficiency closer and closer to 100% as they can get.
Which boiler is right for you? Well, you need to look at your lifestyle requirements, house size, family size, radiator requirements, and also budget. There are boilers for every budget, some very good, some very bad. You can generally stick to one of the main boiler manufacturers as a safe bet for reliability and support.
Choose the right boiler for your lifestyle needs
There are many different variants of central heating boilers, and we can categorize them several ways. The easiest way to group them is by the way in which they operate. We have Combination Boilers, or combi boilers, where typically everything is encased inside one box on the wall. And then we have Conventional Boilers, where we have two tanks in the loft, and an airing cupboard with hot water cylinder. We also have System Boilers, where we have an airing cupboard, but one less tank in the loft.
Research your Boilers thoroughly
Purchasing a boiler is a very important decision, you will want a good ten to fifteen years reliable service from it at least, so please make sure you do your research before you buy.
Which one do you choose? We have put together some information straight from experienced tradesmen, the people who actually work in the field day to day, so please click below to take you straight to the relevant section.