Unvented Hot Water Cylinders
These are the ultimate in hot water delivery. A large tank, with water inside stored under pressure. They are well insulated, heat up rather quickly and can give you a tremendous power shower experience! Cold water is pushed into the tank at the base, and this forces the hot water out of the top under pressure. They can be connected to your heating system, or as a standalone with immersion heaters. If connected to the heating system the immersion can act as a backup. There are no tanks in the loft, but there may be a separate vessel to install above the cylinder.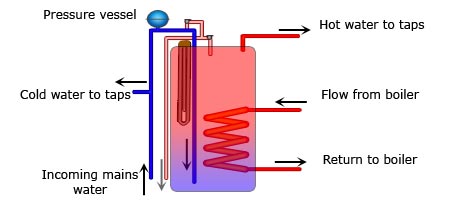 Unvented Cylinder Schematic
Working on and installing unvented cylinders requires a separate qualification, as there are some very important safety considerations when storing hot water under pressure. You may also need to notify building control at your local council when installing an unvented cylinder. If you choose this option, as always please make sure the installer carries the relevant qualification
| Advantages | Disadvantages |
| --- | --- |
| Mains Pressure Hot Water | Very Heavy, some weigh 250kg when full! |
| No tanks required in loft | May require larger cold mains to work properly |
| Can be located anywhere,even in loft | Large overflow pipe required |
| Very energy efficient | May require building control permission |
| Quick recovery from cold to hot | Some require servicing regularly |
| Some units come with a 25 year guarantee | Expensive |
Most modern unvented cylinders are made of stainless steel, and are built to last. Some come with 25 year manufacturer guarantees! These are fitted in most modern houses, houses which also happen to come with water meters. Please bear this in mind if you are conscious of your water bills!