Conventional Central Heating Systems
The traditional way
Over the years, there have been lots of different variations on how central heating systems were installed. Heating systems have evolved as we have become more educated and more energy conscious. Here are some of the more common systems that we find fitted in homes, and we can describe them by the way they are controlled.
Diverter Valves; W Plan and Y Plan
Here, you will have a control valve in your airing cupboard above your pump, called a diverter valve, which motors forwards to heating, then returns to water when the heating goes off. These are called W Plan Valves, or priority systems, whereby priority is given to one over the other. As soon a the tank has heated up, the central heating will come on, or vice versa. You can normally select whether you want heat or water priority on the timeswitch/programmer.
Some systems may have the ability to heat both hot water and central heating at the same time, multi-tasking. These are called mid position diverter valves or Y plan valves, and are the most common valve type fitted. Common manufacturers are honeywell, ACL drayton, Sunvic, and some older valves may be Switchmaster valves.
Honeywell Diverter Valve
Some of the controls you may have are; a room thermostat or dial on the wall, to control house temperature, and a cylinder thermostat, to control hot water temperature. You will also have a programmer or timeswitch of some description, something to control the time periods for when you want heating or hot water.
Y plan systems have been fitted for the last thirty years or so, and are still considered up to date by modern standards. If you have a W Plan or priority system, you may want to consider a simple upgrade to give you more funcionailty and control.
Zone Valves; S Plan
For larger houses, or for those with unvented hot water cylinders, there may be separate valves to control the heating or hot water circuits. (Unvented hot water cylinders require their own zone valve, in the event of a power cut, they must spring return to shut off the flow to the cylinder)
Honeywell Zone Valve
Zone valves can give slightly higher flow rates than diverter valves, as the internal bore is slightly larger. For this reason, they are normally installed in larger houses, four bedrooms and larger. You can also have zone valves controlling separate floors or areas in larger houses, with their own individual thermostats.
Some older houses may have only had one of these valves for the central heating, and nothing to control the hot water.
Summer Valve
Some airing cupboard's resemble a ships control room, with various valves to turn manually. It was common practice many years ago to install a gate type valve onto the heating flow pipe. There was no wiring involved, just turn it on and off when you wanted the heating to work.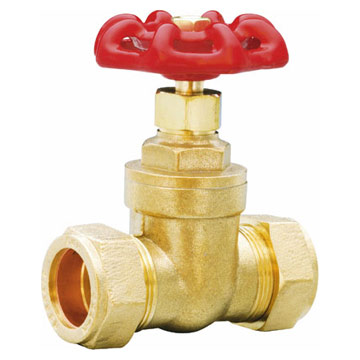 Gate Valve
This shut the flow to the radiators, the boiler would still fire, but there was no time or temperature control with this set-up. Gate valves could also snap in the off position, and they are prone to leaks coming from the gland on the gate valve. However, some people have had this system for years, and never had a problem. It's just the inconvenience of turning the valve on and off.
Problems with Conventional Systems
We must be aware that with a conventional system there are some problems we may encounter.
Blockages;
Any problems with water quality inside the radiators and system and we can get blockages inside pipes and valves. Tank fed systems are only under between 0.1bar to 0.5 bar of pressure, so it is quite common for several junctions to become blocked, especially in the airing cupboard, and when using microbore (8mm and 10mm) pipework. Combi systems are under slightly higher pressure, and you don't have the same layout of pipework with the same vunerabilities as a tank fed system.
Reverse Circulation
If we extend systems without taking a good look at the pipework, we may accidentally tap into the return pipe from the hot water cylinder. This is common when extensions or conservatories are built. This results in the new radiators heating up when the hot water is on it's own in the summer. The radiator picks up some of the residual heat from the hot water circuit. This can also flow to other radiators.
Airlocks
Pipes on tank fed systems can be prone to airlocking, especially if the pipes rise into a roof space, and then fall to supply a radiator. Consideration must be given to providing a venting method for the highest point of the pipework.